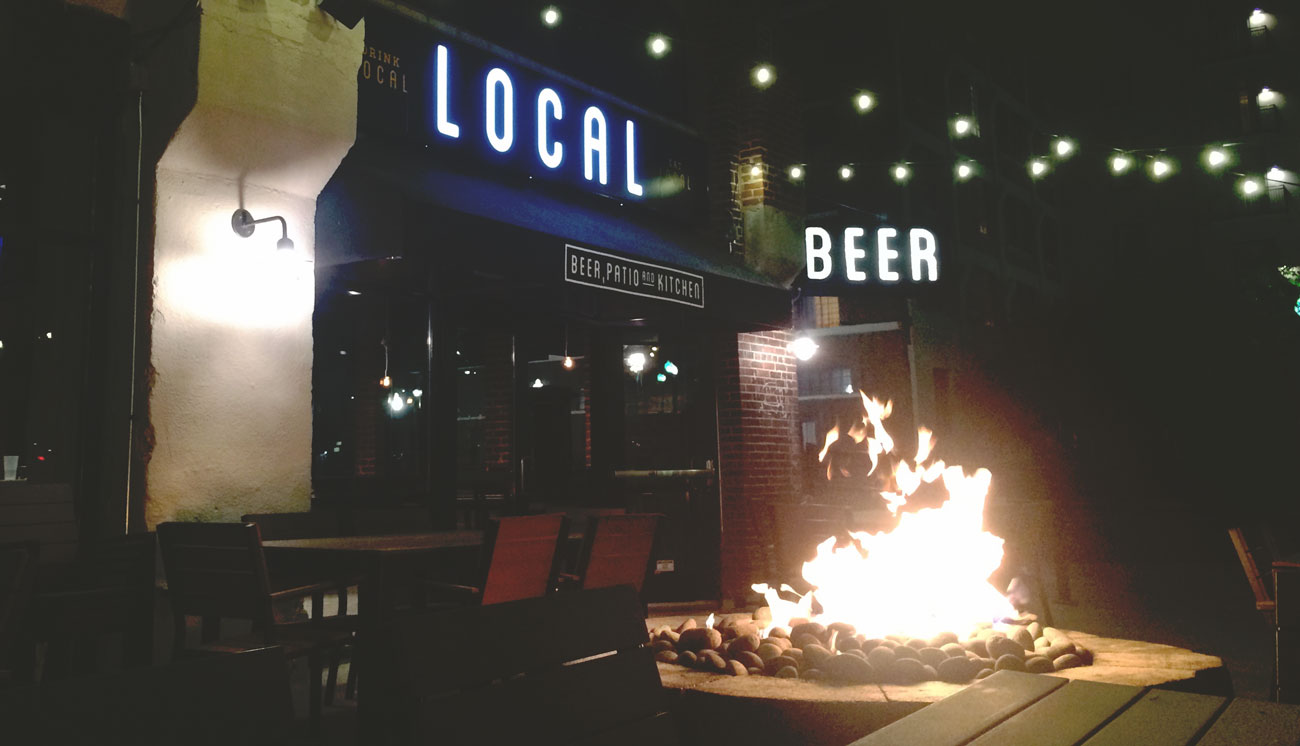 Brand Creation
Some friends of ours approached us about opening a bar in an existing location that had some challenges:
• Just a little off the beaten path.
• Parking was confusing.
• Needed a reason to come and hang out.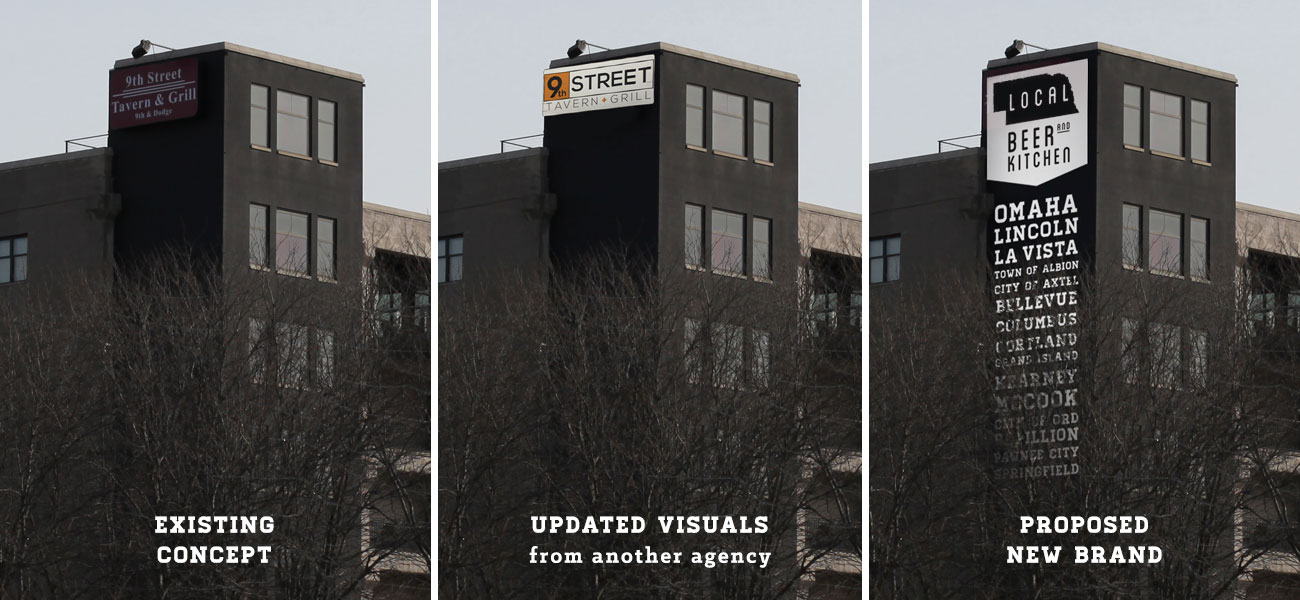 New Name and Branding?
The current owner just had updated their visuals for the existing restaurant/bar, and they looked great. But, as we talked in depth, more than visuals were needed to overcome the challenges. We needed to start from scratch.
It's near a high-traffic area, an event center and the Old Market. We needed this place to be glanced at and have locals and travelers both think, "We need to go there".
The restaurant operator partners wanted to focus on local beers, and become the largest distributor of local beers out of any bar/restaurant in the area.

Brand Attributes
Out of the Leadership Meetings, we narrowed it down to 3 Brand Attributes that shaped the strategy for the new brand.
From there, we started on the visuals.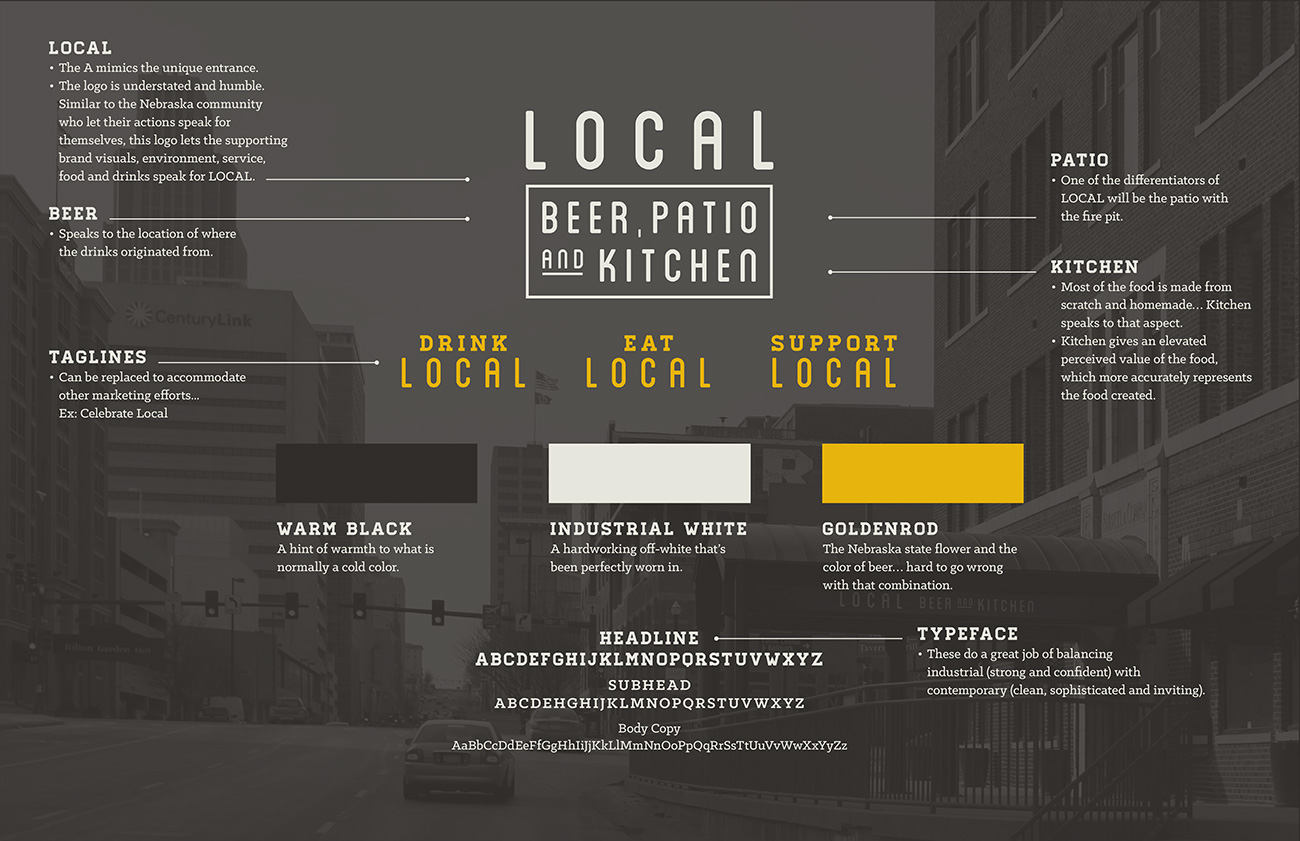 New Name. New Logo. New Brand.
We started with a new name. Keeping things simple, we all agreed on a name that tells you exactly what our main differentiators are: Local Beer, Welcoming Patio and a High-Quality Kitchen.

Signage
With the location being about a 1/2 block out of the way, we needed to showcase what we were all about from a distance and at any time of day/night.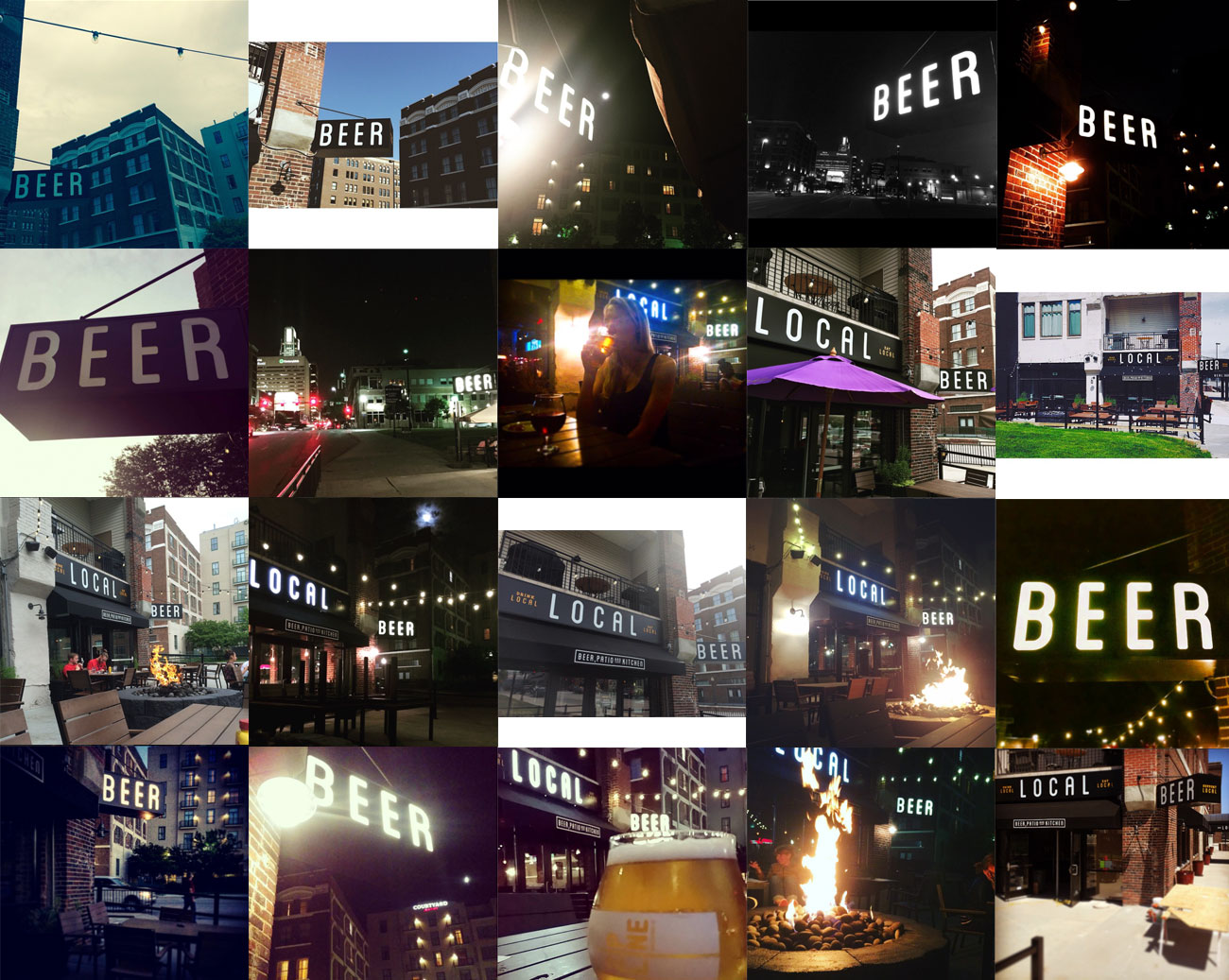 Signage on Social Media
Following the Simple attribute, we kept the signage straightforward and right inline with what people like to support, "Local Beer".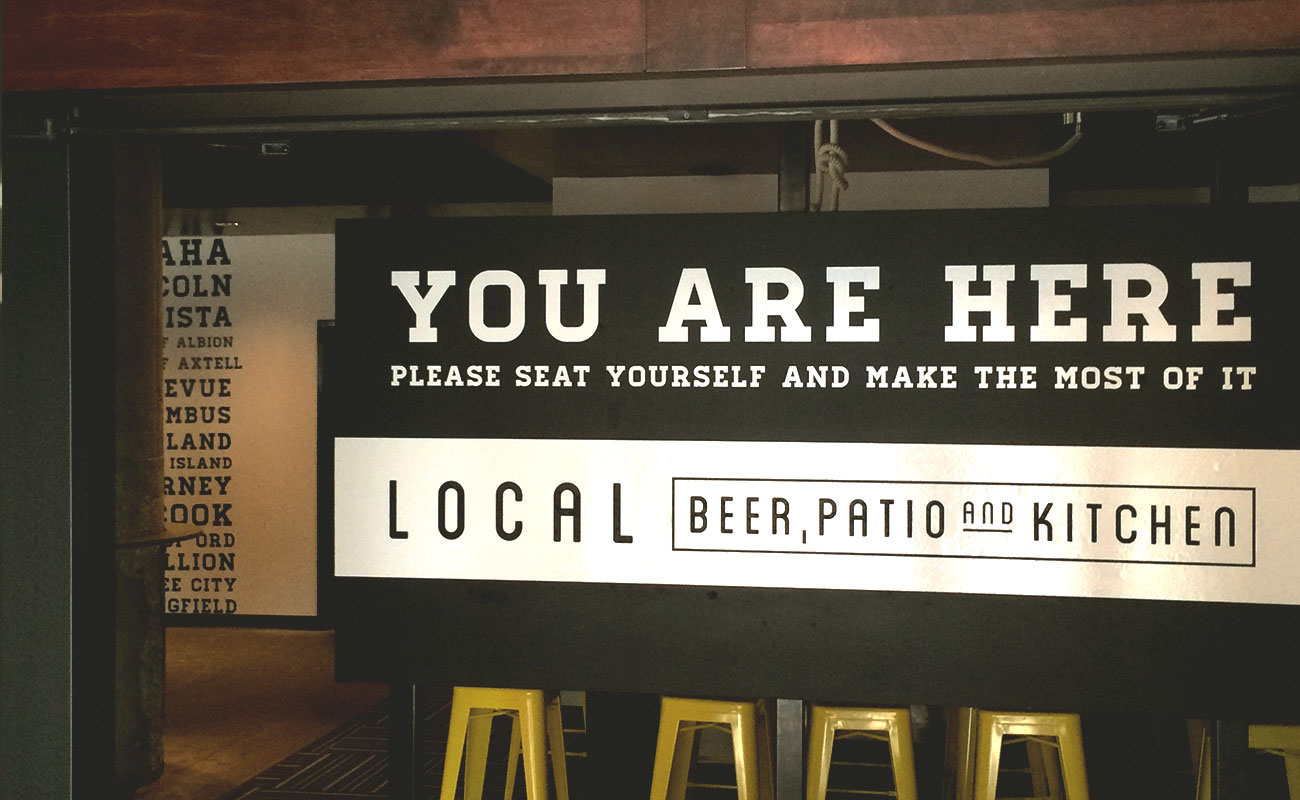 Welcome Sign
A big welcoming sign to help set the tone, directing people to enjoy their time here.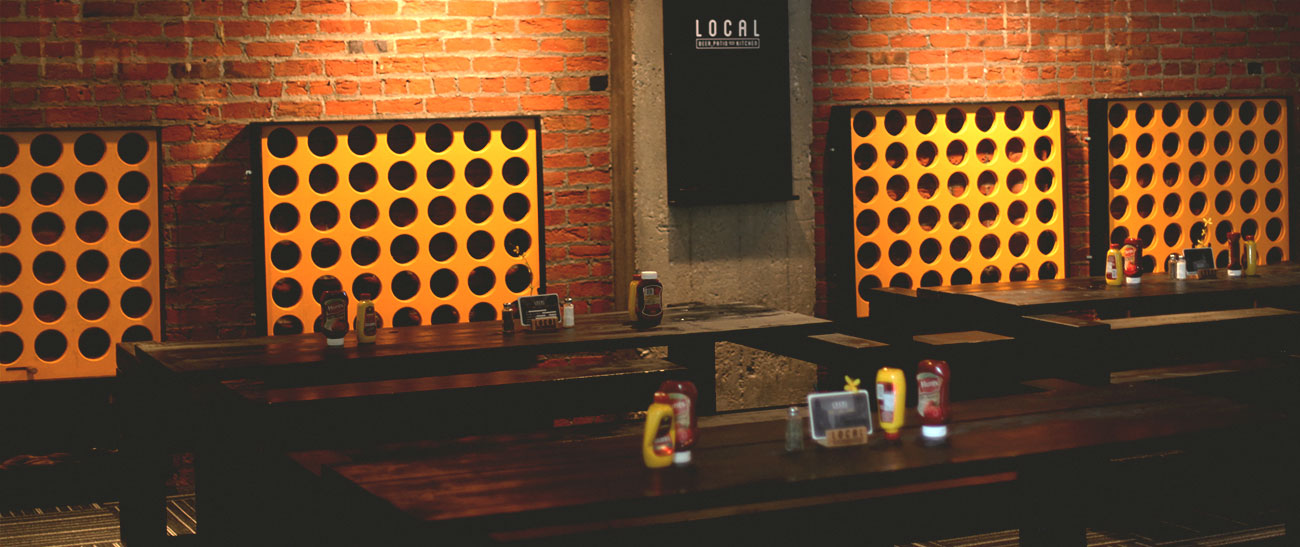 Giant Connect Four
Thinking on the Welcoming Hangout attribute, we all wanted games that had a low barrier of entry to play. Something familiar and comfortable, but not a typical game that you'd see in bars. Connect Four is one you either know or can learn in a minute. These games can be casual or heated… it's however the guest wants to make the most of it.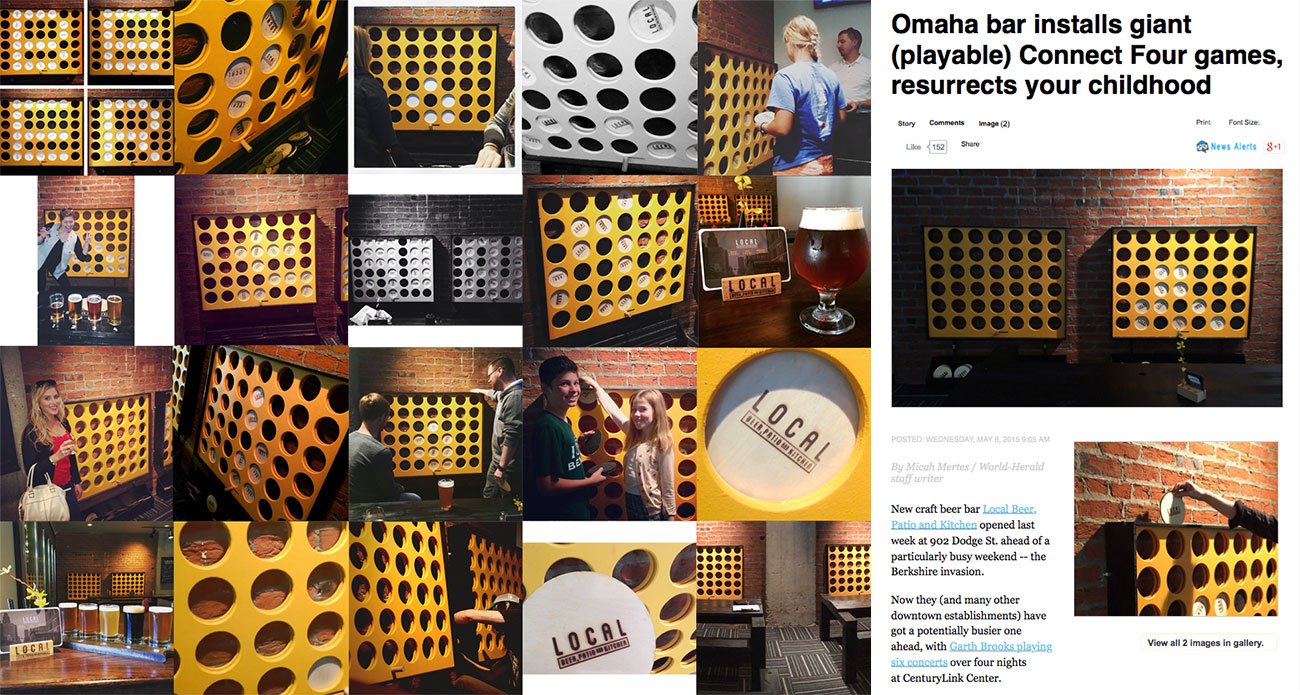 Connect Four on Social Media
Our goal was to make this a fun and welcoming hangout. According to the internet, people are having fun! This might be the one time you can believe what you see on the internet.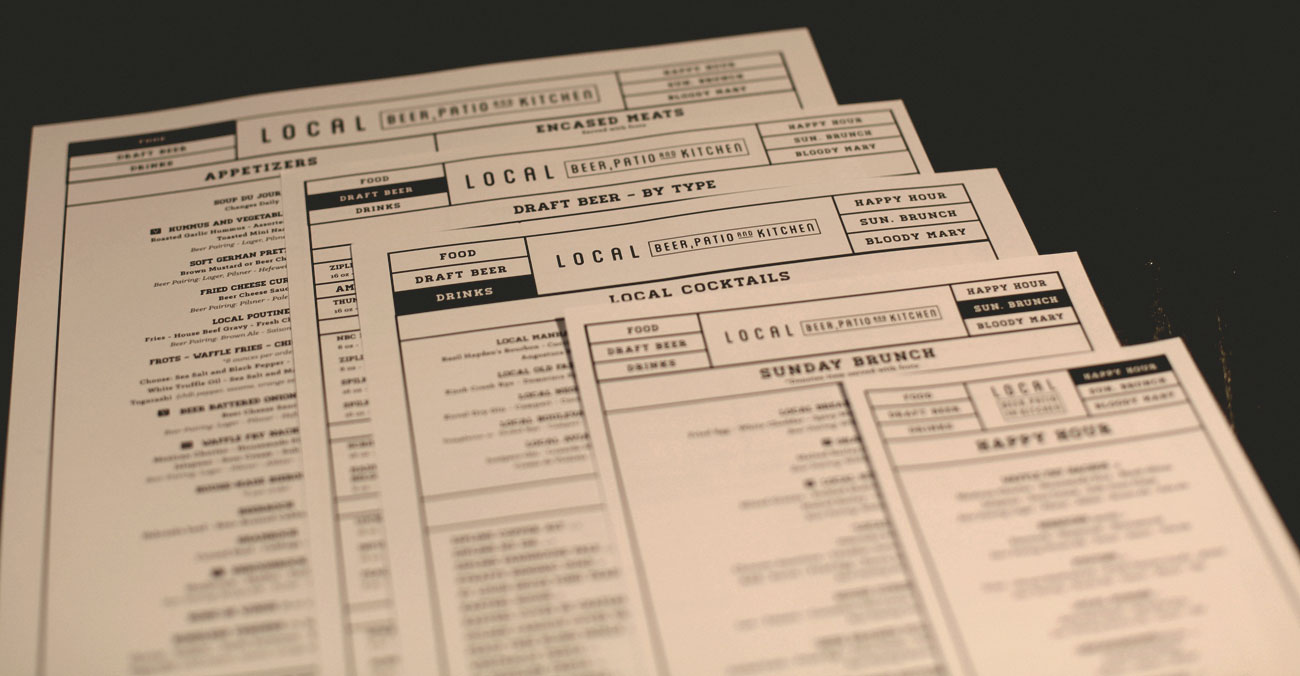 Menus
We worked with the manager and Certified Cicerone®, on the beer menus. Being a beer expert, he asked this to be two sided…
Side 1: Draft Beer listed by brewery.
Side 2: Draft Beer listed by type.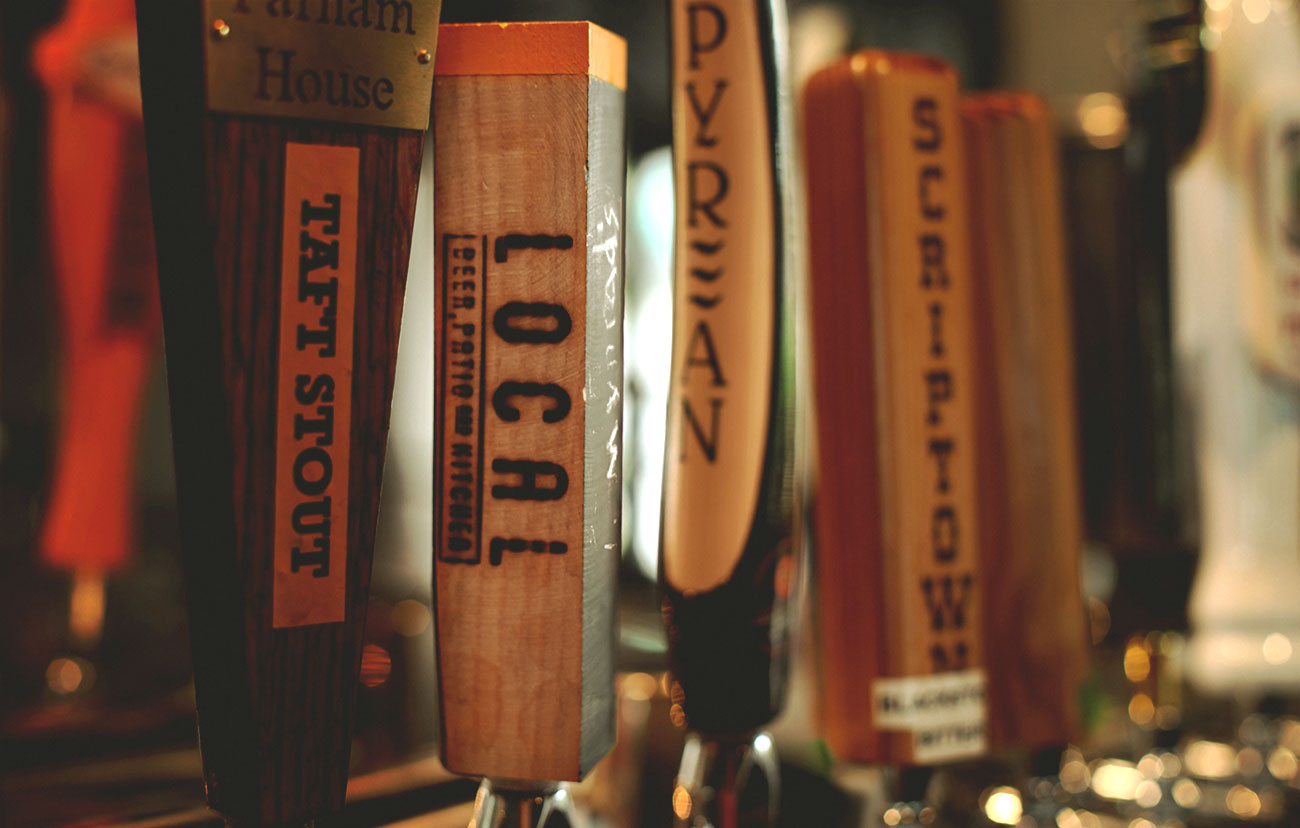 Tap Handles
Since some of the beers here are from smaller breweries, some don't have their own tap handles, yet. We made a dozen by hand that are branded with an iron and have chalkboard fronts to write in what types of beers there are.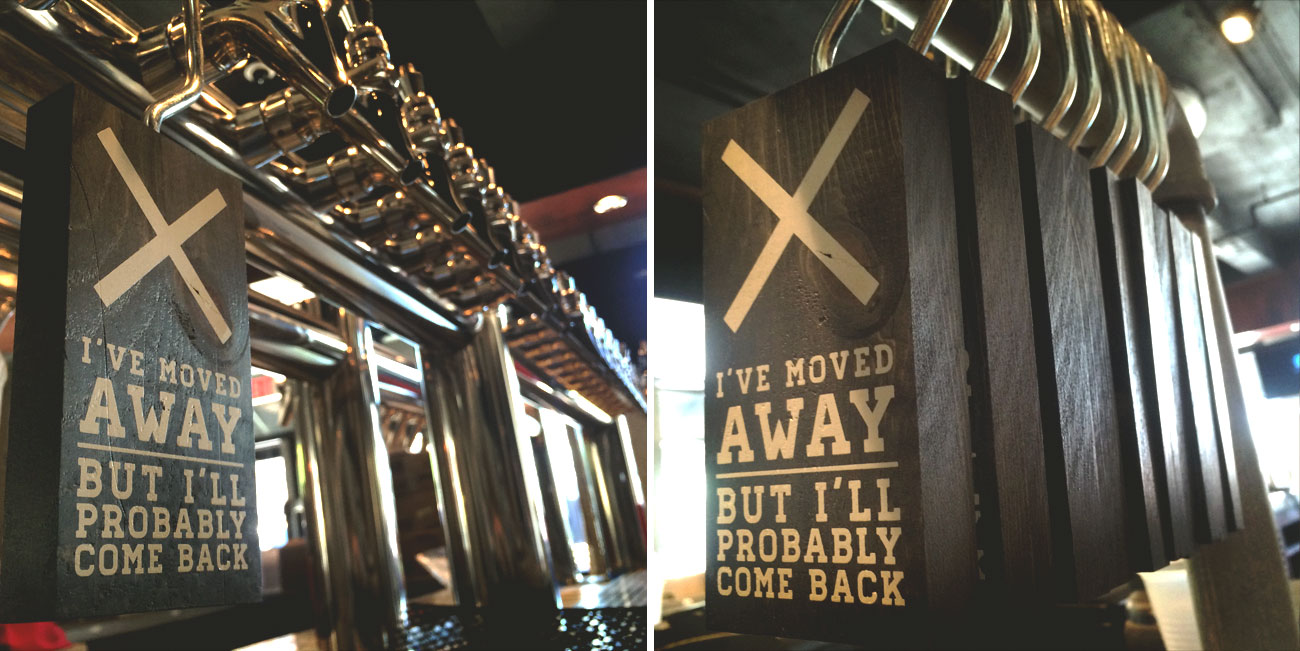 Tapped Taps
People who move away tend to find their way back to this community. The beers do, too.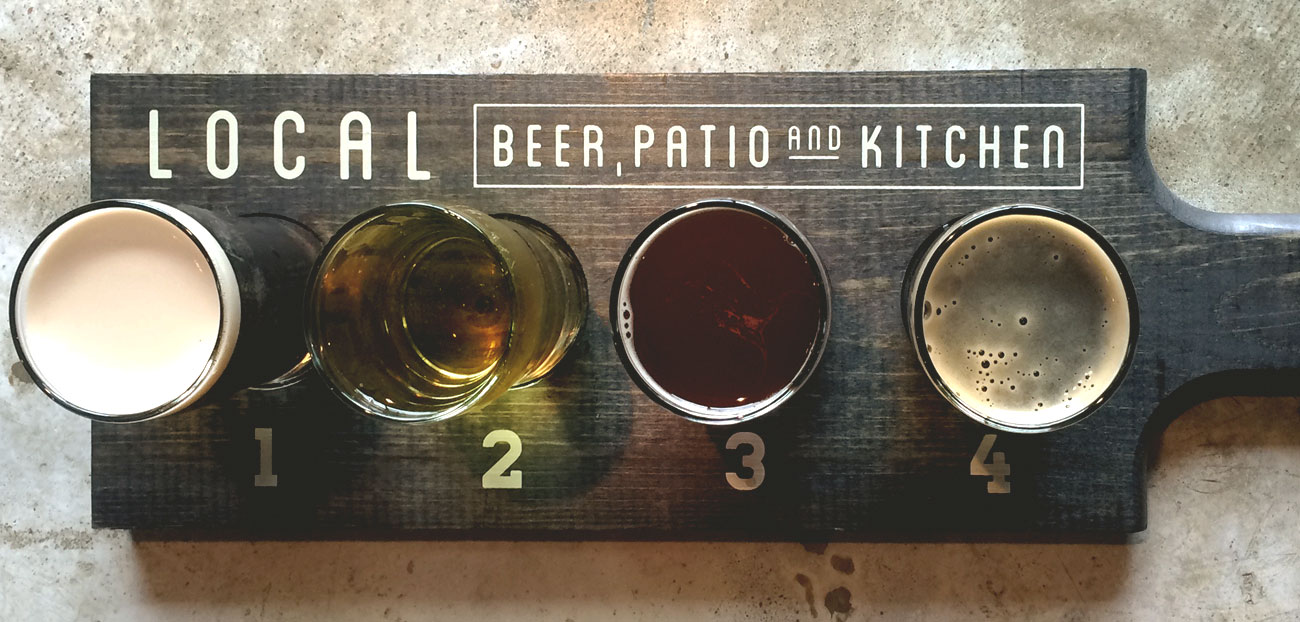 Flight Paddles
Our friends at LOCAL had a vision for flight paddles, so we all worked with our friends at Coffee Diem Dry Goods to have these produced.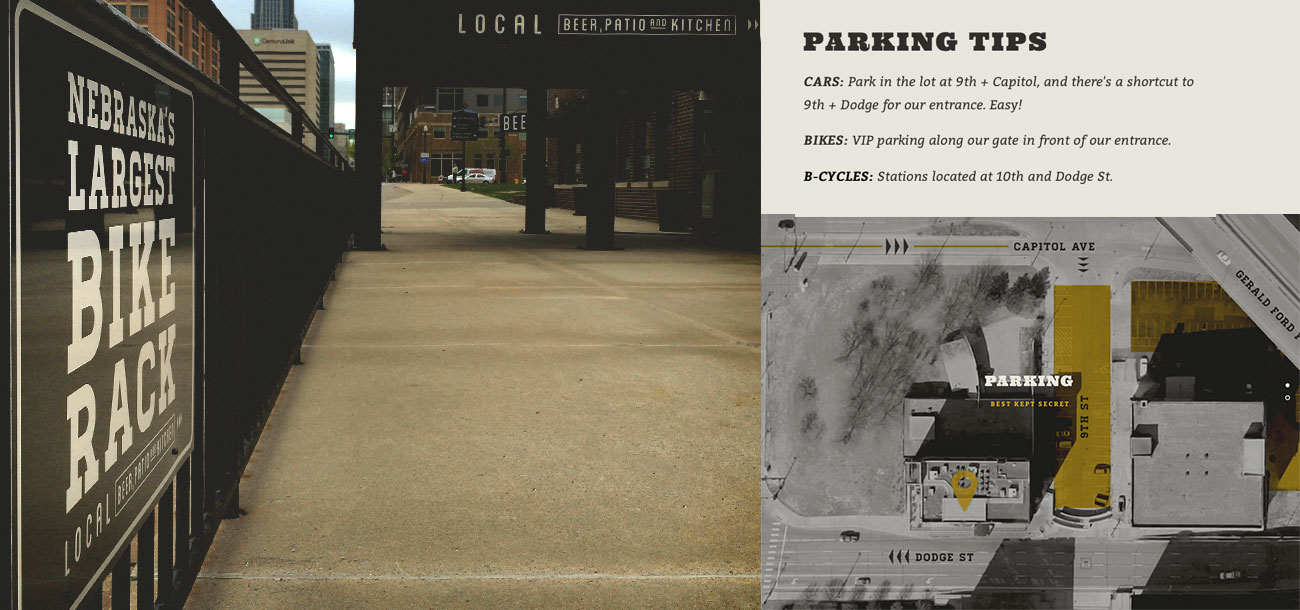 Parking
We found most people didn't come to the last bar/restaurant because they didn't know where to park. So, we highlighted parking for cars, bikes and b-cycles (public sharing bikes).
Out of the 18,000-22,000 unused parking spots in downtown Omaha, we have over 100 of them in our own backyard! LOCAL's parking lot for cars is Downtown Omaha's largest out of all the bars and restaurants around.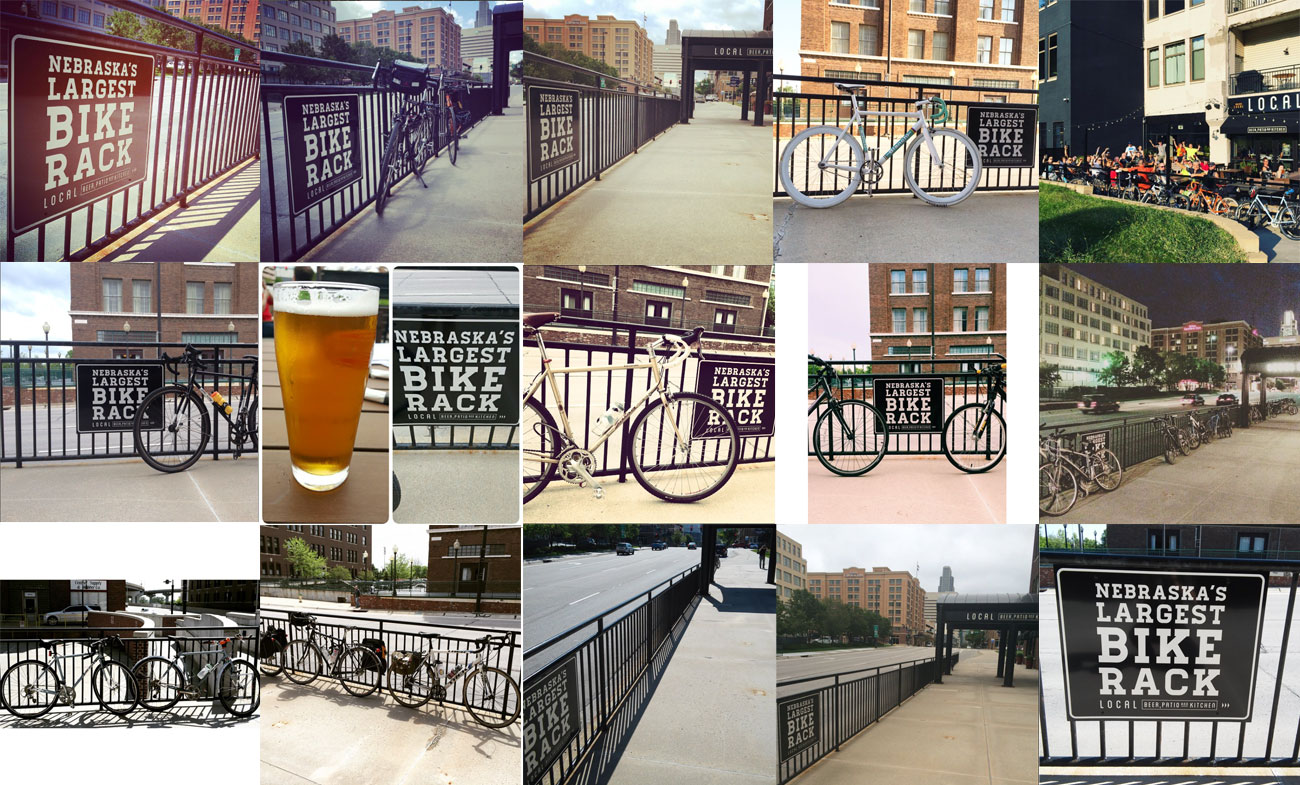 Bicycle Parking on Social Media
We really wanted to cater to the bicyclists, so they got VIP parking.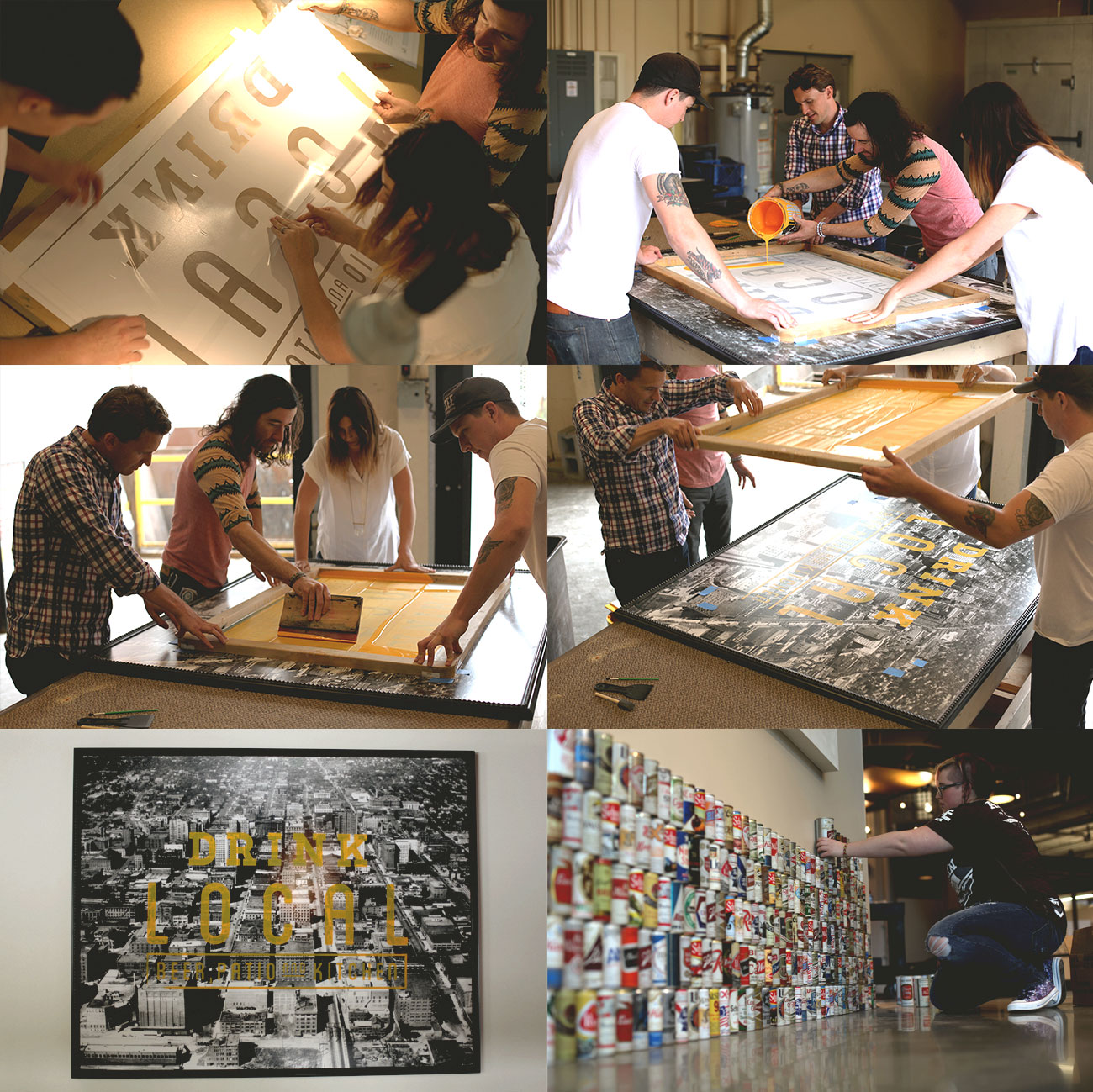 Artwork
It's always fun creating artwork for a space that represents the concept. Why buy those stock prints out of a catalog? You can usually create original, relevant artwork that has a story for a similar price.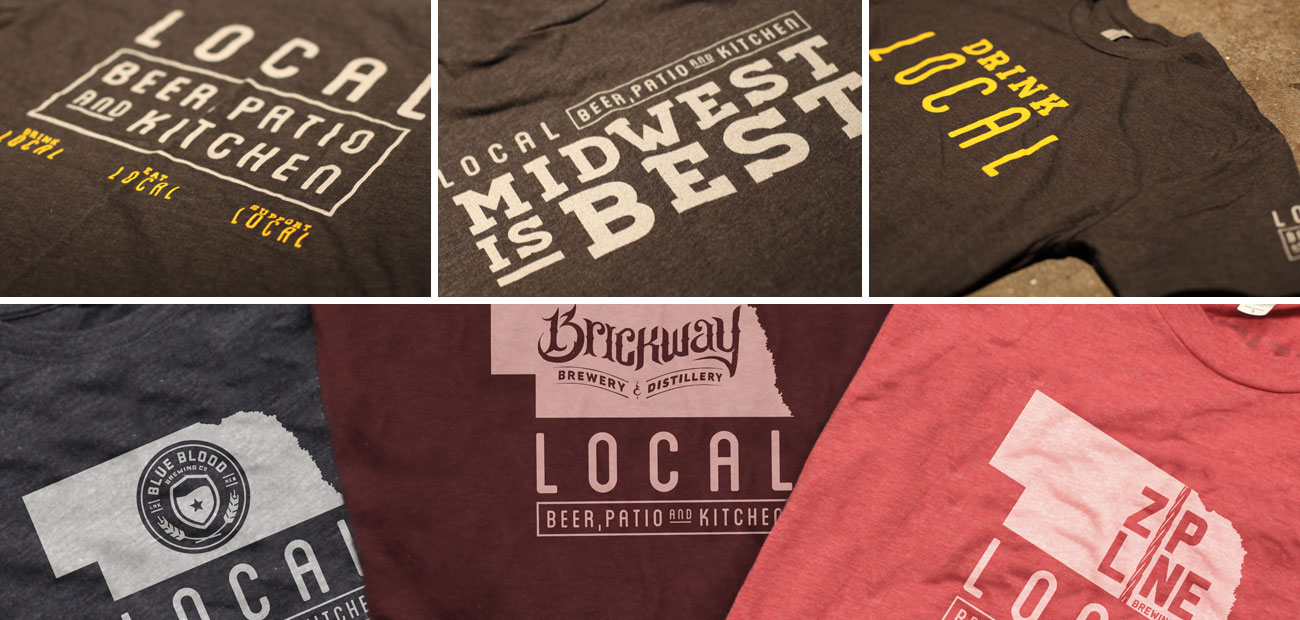 Uniforms / Merchandise
We designed some shirts for the staff and for purchase. LOCAL also collaborated with some local breweries and helped promote them while shaving the costs off the production prices.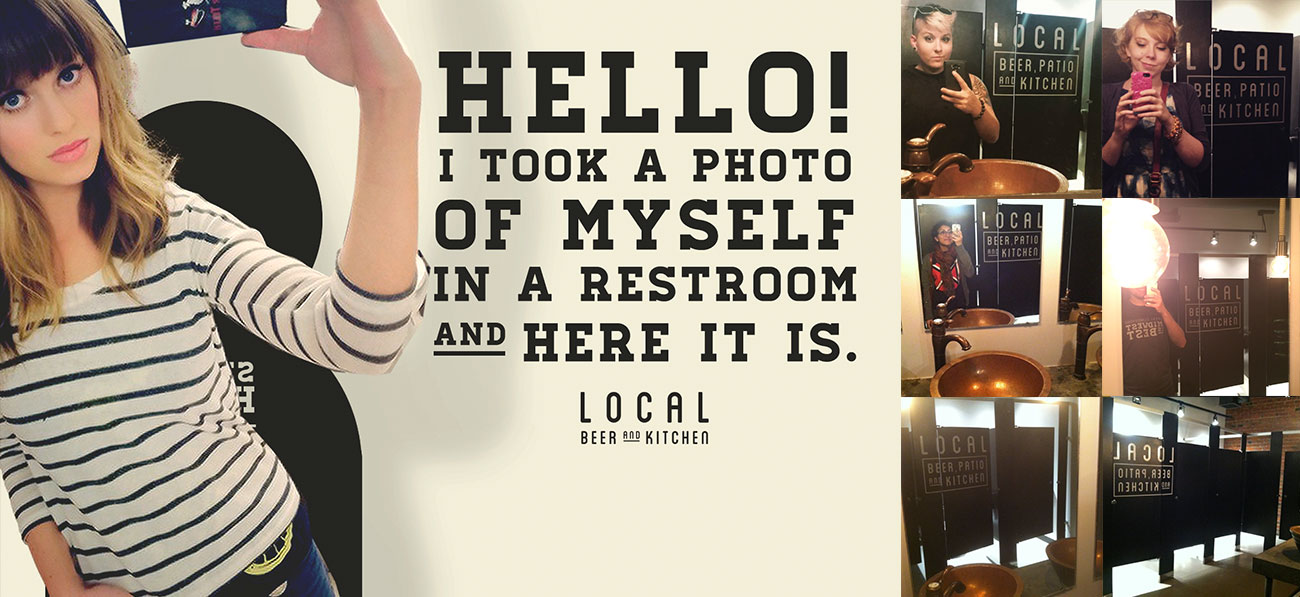 Bathroom Selfies
At some of the other concepts we've been a part of, we noticed the majority of photos taken were selfies in bathrooms. It was typically from any point of interest on the mirror or behind them. So, we wanted to take that a step further and add some humor to it (shown above). However, we just had room for the backwards logo on the stalls this time.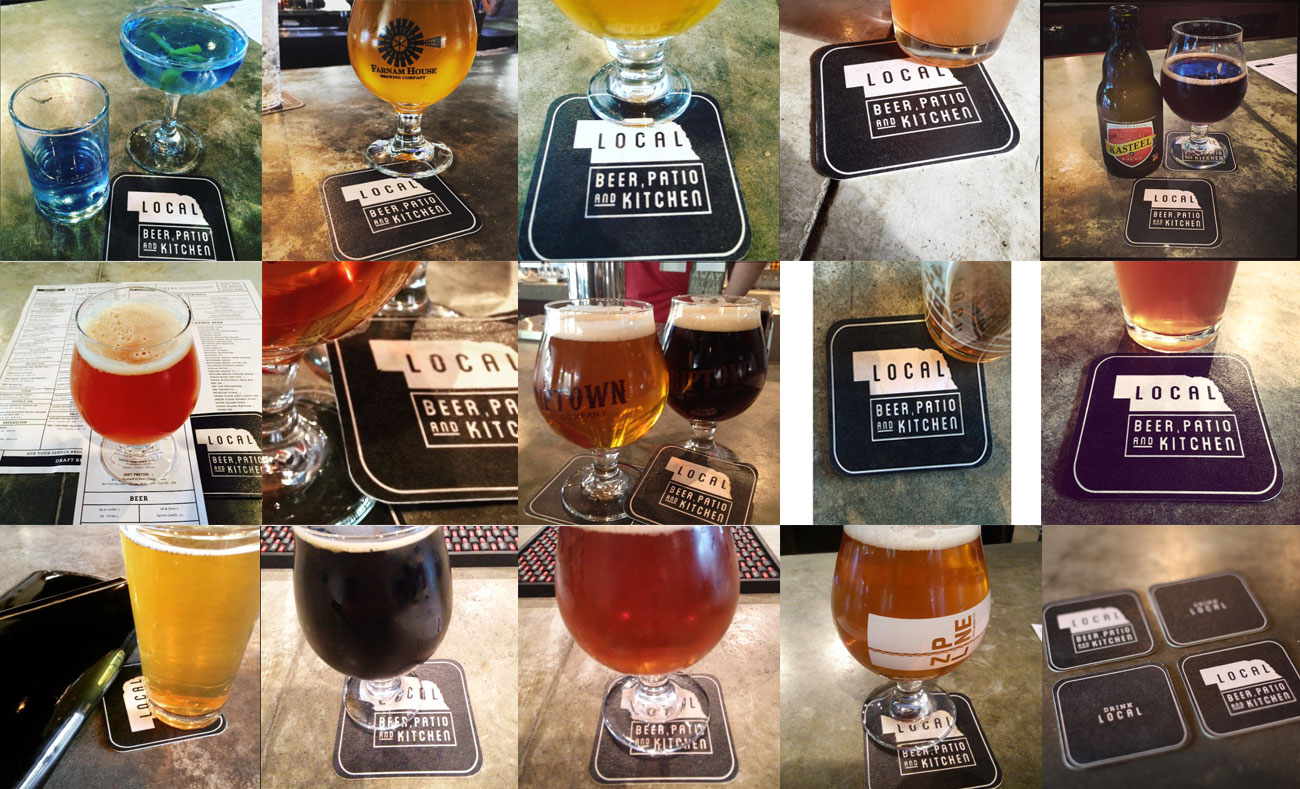 Coasters on Social Media
If you serve good drinks or good beer, it's worth the investment of having branded coasters – they'll show up all over social media.

Business Cards
On the way out the door, these business cards are available if anything wasn't satisfactory.
We know it can be difficult to bring up something you're unhappy with in person, but at the very least, reach out to a manager through email or phone. If they are jerks on the phone, then leave a negative online review.
7 out of 10 people don't speak up, they just don't come back. LOCAL wants you back.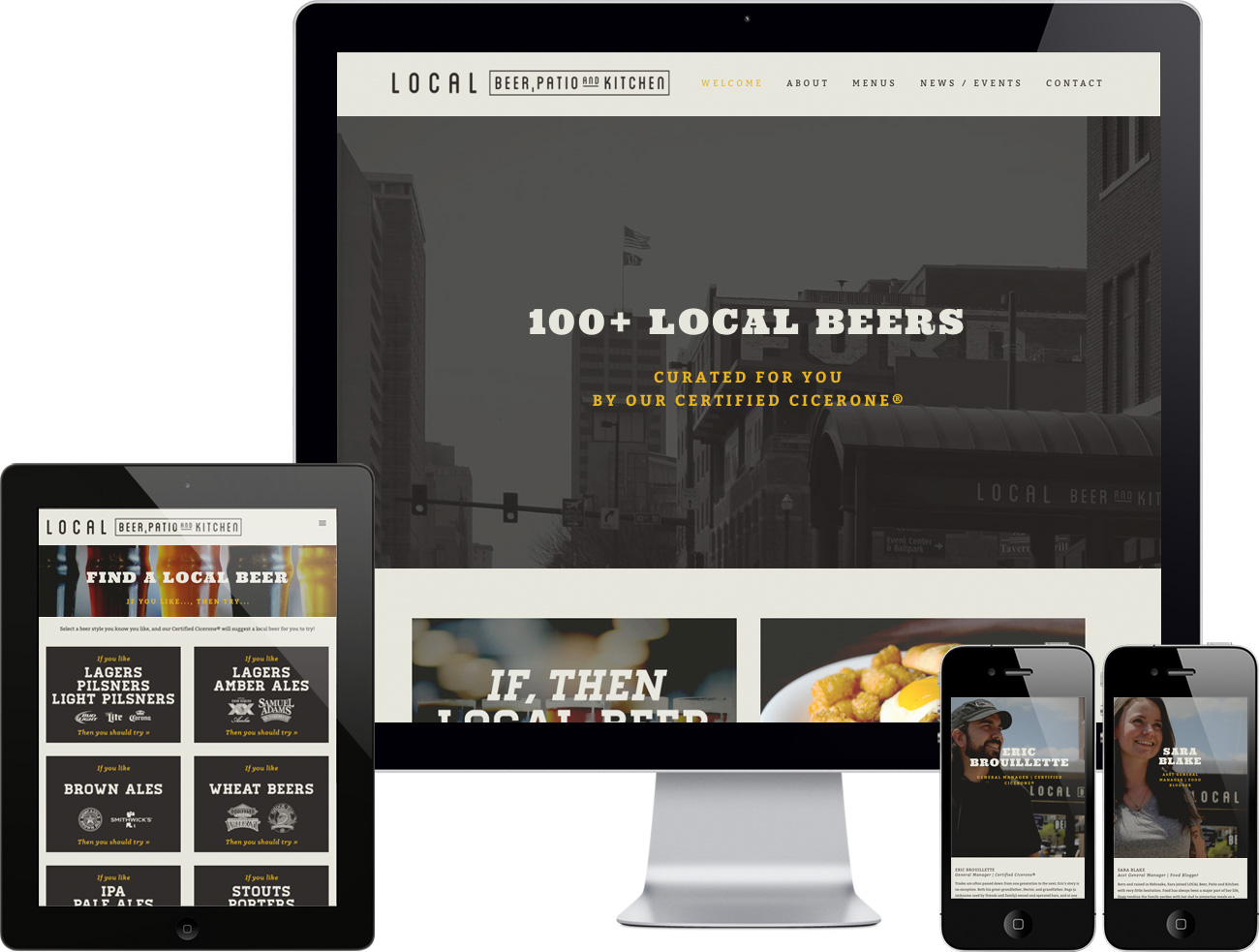 Website
Clarity on websites is hard to find. Again, keeping it simple, LOCAL tells you exactly what makes them unique – the giant selection of local beers. And, we want you to feel comfortable in this welcoming hangout, so we have an If, Then section to help you explore different local beers based on what mainstream ones you may like. All created by the Certified Cicerone® (beer expert).
LocalBeer.co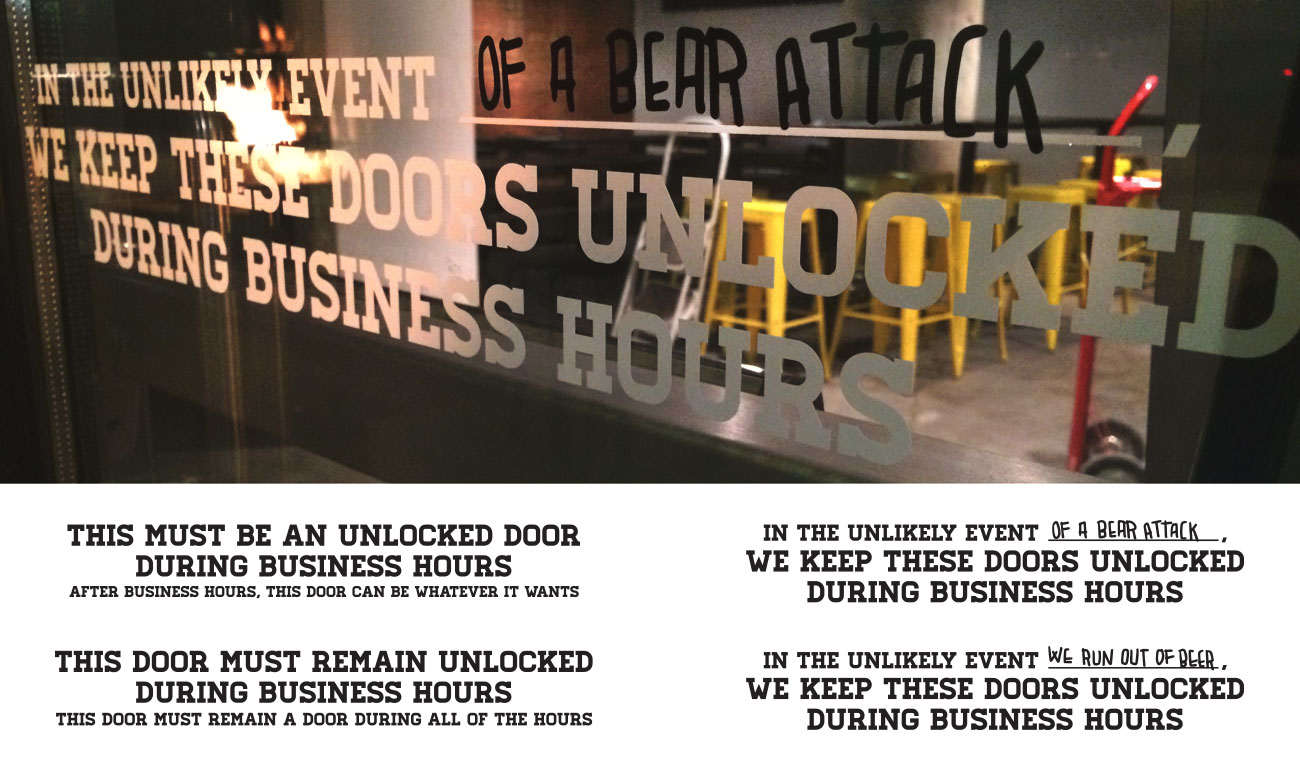 Legal Door Signage
After hanging out with everyone so much, we wanted to express their humor in unexpected ways. These statements on the door have to be there by law, so we gave them a little personality.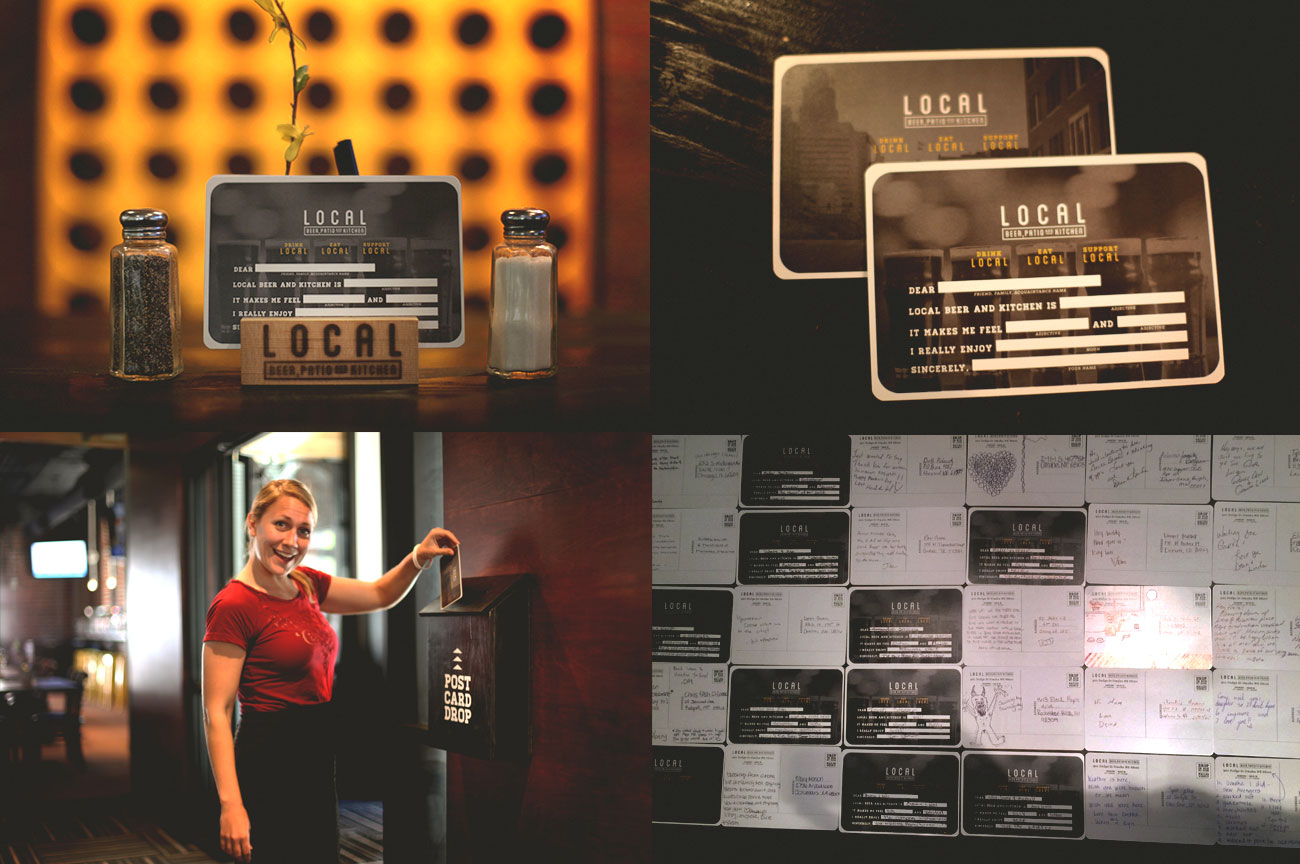 Postcards
We created postcards that you can send to your friends. Just fill them out and drop them in the box by the door, and we'll mail them out for free!
Some postcards get special offers for lunch. Can you imagine a world with direct mail that isn't annoying to receive?
Overall Thoughts
This was a fun and challenging concept to work through with everyone. It wouldn't be what it is without everyone's involvement – smart restaurant operators, passionate owners, the incredible management staff, the breweries and all the people that love and support local beer. Thank you!
Misc Photos